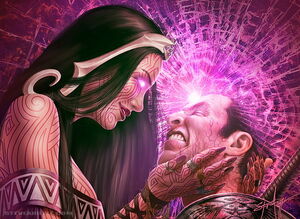 A ribbon of twisting darkness streams from the user's hand to their target's heart, feeding on their vital force as the user grows stronger.
Melee Magic
Edit
Sweet sweet lifeforce.
Thrice Per Encounter * Arcane, Nonelemental
Standard Action                     10ft
Requirement:
2+X AP
Attack:
Will vs. Magic Class
Properties:
Heal Will Hit Points + X
Properties
Edit
On a successful hit, you regain hit points equal to your Will score.
The healing of Drain can be redirected to an adjacent ally within melee range.
Chapter 2 - Ravnica
This spell was the other original spell from Liliana's graveyard. This spell has become one of the core abilities that I use in battle. Too bad that the spell doesn't heal as much from ordinary targets as it used to... - Luke